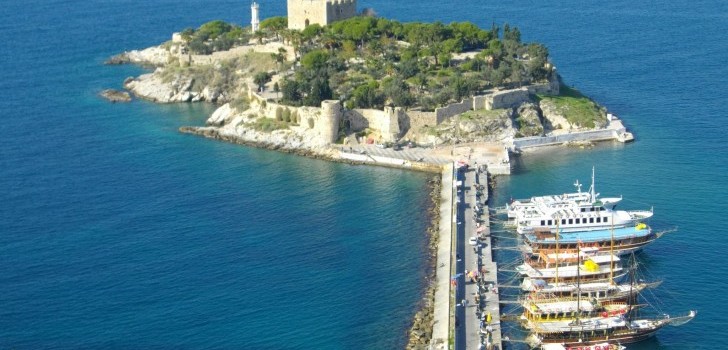 Kusadasi and the Aegean Experience
I had an early departure from Cappadocia, arriving at Izmir to explore the Aegean coast of Turkey which boasts of some of the loveliest landscapes in the country – from coastlines with crystal clear waters to pristine beaches and some amazing historic sites.
On arrival at Izmir airport, I headed to Kusadasi,a famous port of call for luxury cruise liners, and well known for its beaches, restaurants and night life. Located around 90 minutes south of Izmir, you can also visit the Greek island of Samos which is just 30 minutes by boat from Kusadasi.There are several day trips which are organized from Kusadasi into Greece and it is important that you have a visa for Greece as well as a multiple entry visa for Turkey.
Kusadasi, which means "Bird Island" derives its name from an islet known as Pigeon Island. It is close to many important sites across the Aegean region such as Pamukkale, Bodrum – the party capital of Turkey and Ephesus or Efes near Selcuk, which is well known for the best preserved ancient ruins in the world, a mere 30 minutes away from Kusadasi.
En route from Izmir to Kusadasi you will also find two Aqua Parks – Aqua Fantasy and Adaland. One can stay at the Aqua Fantasy Club Hotel, a four star resort property which has its own private beach. You can stay in Kusadasi and make a day trip to any of the water parks. The other water park enroute is Adaland, the biggest Aquapark in Europe and comprises of a wide range of activities with over 20 fantastic rides spread around 67 acres.
After having crossed the Aqua parks we were approaching the scenic town of Kusadasi with it crystal clear waters. I checked in at the Kayhanbey Hotel, a four star property,located along the harbour and I could see one of the cruise liners which was docked on the waters from the balcony of my hotel room. There are quite a few restaurants in the vicinity and I lunched at King's Palace which is a café restaurant and serves a wide variety of cuisine ranging from Turkish, Italian, Indianto Mexican. For the Indian travellers who are particular either for vegetarian or Indian meals,Kusadasi offers lots of options.
Later I explored the city centre starting with the port area which has all the leading shopping brands at great value.Kusadasihas not only beautiful beaches, but is bustling with activity. It is a delightful place for a honeymoon or a family holiday or even if you are a party animal. It enjoys 300 days of sunshine a year – a typical Mediterranean climate with long summers and mild winters. One of the more popular beaches is the Ladies Beach or KadinlarDenizi and is around 5 kilometres away from the city centre.
No motor vehicle is allowed in the ladies beach area and there is a regular shuttle which runs from the town centre to the ladies beach. You can also experience various water sports here –be it windsurfing, water skiing, sailing or beach volleyball.Kusadasi is a popular destination for relaxing by the beach side and for visiting some of the historic sites around the region. What better way to spend your evening after a day of activity than trying out a Turkish Hamam or the famous Turkish Bath.
That evening, I went to AdasarayHamami which is a few kilometers away from the town to try out the Turkish Bath as Kusadasi is one of the best places for this experience. The tradition of the Turkish bath dates back to the time even before the Turks had reached Anatolia. When the Turks arrived in Anatolia, they brought with them a bathing tradition which then merged with the bathing tradition of the Romans and Byzantines and with the addition of the Moslem concern for cleanliness; there arose a new concept of bathing known as the Hamam or the Turkish bath.Soon the popularity of Hamam grew and besides being a place to cleanse the skin, it became a ritual for the locals to frequent the Hamam. Today it has become a major tourist attraction.
So what exactly is the Hamam experience – You first enter a chamber called a dream room to leave your clothes and wrap yourself with a towel and then you can go to the sauna room for 15 to 20 minutes. Thereafter, you go the main bathing area where there is a centralized platform also known as the main parlour area.
The Turkish Bath or GobekTasi in Turkish which is translated as belly stone in English is where you lie down for about 10 to 15 minutes and a professional masseur will use loofas to clean your skin in order to open your pores along with foamy layers of soap. After that you have a choice of either taking a typical Turkish massage followed by a shower or skip the massage and immediately after the bath leave the main room and go to the lounge area wrapped around in your bathing robe and enjoy a warm drink which is preferably the traditional Turkish tea.There are separate bathing areas for men and women and the best way to know how you feel is to experience it.
The entire experience is extremely rejuvenating and I would strongly recommend this, especially after having spent a long day soaking in the sun and trying out some active water sports along the beach. After such a rejuvenating experience the adventure continues….